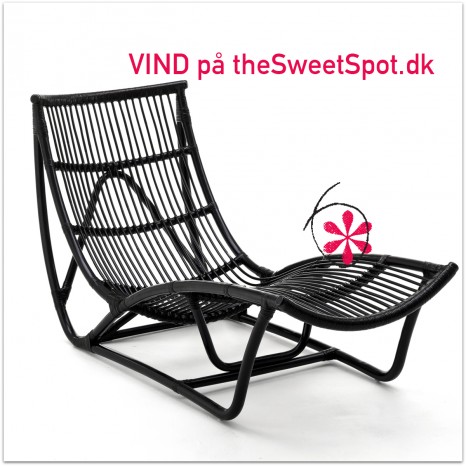 H old now holiday a great Thanksgiving!
As in just what we needed. Here in the house Holidays renamed lucky days, and when things are new Danish potatoes in bicycle basket, GT in the glass, børnefusser in the sand and sausages on the grill is not a dry eye. In short, a little hard to make ready everyday in the morning.
Keep a little stuck in the dream and say hello to the wildest giveaway time! I have teamed up with garden furniture manufacturer-deluxe and welcomes Sika-Design welcome at theSweetSpot.dk as a sponsor.
Michelangelo daybed is beautiful like a dream, have curves that car and take in all it takes space by storm. The material is painted rattan, which is for indoor use, but on a dry sunny day can easily get outside. The black premium version is a limited edition and is also available in natural, antique brown and taupegrå.
All you have to do to be in the competition for daybedden are posting a comment in the box below. Tell how you will do daybedden your own, or where and how you will use it.
Joining in on Saturday, 25 May at 12th
Good luck - share the sweets
Welcoming new sponsor Sika Designs, som gör beautyful handmade rattan furniture. Giveaway is only for English readers - sorry